30+ Days of outfits from just 33 pieces
30 outfits (or 35) from 33 pieces
I picked out 33 pieces, that includes all the clothing, shoes, and accessories (jewels like the bangles and skinny rings were bundled), and I made a month's worth of outfits and a few more for good measure. I could have kept going and made some of the simpler ones, like the jeans and tees all intermix. Well the tees pretty much go with anything. But I tried to go with some more creative ones. If I could just point out few things that I noticed.
1. Having some simple basics are really important.
Basics:
· white tee
· striped tee
· jean jacket
· black vegan leather jacket
· dark skinny Joe's Jeans
· black body con dress
· chambray dress
· black ankle boots
Those are all items I can pair with just about anything and I wear them ALL the time.
2. Then there's the fun stuff that you can pepper in for color and texture that are kinda timeless and add so much flavor.
Fun Stuff:
· Zara printed blouse
· Mother denim mustard skinnies
· Zara sparkly pullover
· Purple sweater midi dress
· Cheetah strappy heels
You can't really tell what era those are from, but I love the colors, patterns, textures, and I can mix and match them a lot.
3. Things that button down or are form-fitting and you can layer are really mutli functional.
· Chambray dress
· Black body con
· Blue printed button-up dress
· Purple sweater midi
· Zara printed blouse
· Chambray shirt
For the items that button all the way up you can always wear them open as a layering piece. And the form-fitting items can be layered under other pieces to look like something new. Or even just to give you warmth in the colder weather.
Okay, that's all I have to say, I hope you enjoy these looks! And, obviously, all these pieces are vegan! All the shoes, bags, jackets, sweaters…. Everything! See how easy it is? =)
white tee + Joe's skinnies + blue printed dress open on top + Billabong boots
Mother denim mustard jeans + Zara printed blouse + denim jacket + Billabong ankle boots + plum clutch
white tee + black jumper + chambray layered on top + Billabong boots
Zara printed blouse + vegan leather mini + black ankle boots
sparkly pullover + grey pencil skirt + black ankle boots
Zara printed blouse + grey pencil skirt + black ankle boots + black crossbody
white tee + Zara printed blouse open + vegan leather jacket + Joe's skinnies + cheetah strappy heels
vegan leather mini + sparkly pullover + jean jacket + black ankle boots + black crossbody
Black romper + sparkly pullover + black ankle boots + black crossbody
grey pencil skirt + blush pullover + vegan leather jacket + black ankle boots
Zara printed blouse + Zara light wash relaxed denim + cheetah strappy heels + Plum clutch
chambray dress + vegan leather jacket + black ankle boots + plum clutch
purple sweater midi + chambray layered on top + cheetah strappy heels
Black jumper + blush sweater layered on top + black ankle boot
black body con tucked into vegan leather mini + chambray on top + black ankle boots + black crossbody
Zara light wash relxed jeans + sparkly pullover + cheetah strappy heels
vegan leather mini + striped v-neck + chambray layered on top + Roxy sneakers
Zara printed blouse + blush pullover on top + Joe's skinnies + Billabong boots + plum clutch
purple sweater midi + vegan leather jacket + black ankle boots
Mother denim mustard jeans + white tee + jean jacket + tan backpack + Billabong boots
blue printed dress + black ankle boots + plum clutch
Zara light was relaxed denim + v-neck striped tee knotted on the side + cheetah strappy heels
black jumper + 3 quarter sleeve tee + Roxy sneakers + tan backpack
Black body con dress + grey pencil skirt layered on top + cheetah strappy heels + plum clutch
striped tee + Mother denim mustard jeans + chambray dress, open, layered on top + tan backpack + Billabong boots
white tee + Zara printed blouse open, on top + Joe's skinnies + cheetah strappy heels + black crossbody
chambray dress tucked into vegan leather mini + black ankle boots + black crossbody
black body con + sparkley sweater layered on top + black ankle boots
chambray dress + blush pullover layered on top + Roxy sneakers + tan backpack
Mother denim mustard jeans + sparkly pullover + vegan leather jacket + black crossbody + Roxy sneakers
black body con + jean jacket + Billabong boots + black crossbody
vegan leather mini + blush pullover + denim jacket + Roxy sneakers
Zara printed blouse + black romper + cheetah strappy heels
Zara light wash relaxed denim + 3 quarter sleeve tee + vegan leather jacket + Roxy sneakers
vegan leather mini + 3 quarter sleeve tee + cheetah strappy heels + black crossbody
purple sweater midi + blush pullover layered on top + Billabong boots + plum clutch
Jewelry - set of gold bangles, gold ring with ruby stone, skinny gold necklace, stack of skinny rings, gold hoops, studs, watch
Bags - small cross-body, tan backpack, plum clutch
Shoes- Billabong tan faux suede ankle boots, Black Roxy sneakers, Cheetah strappy heels, black faux suede ankle boots
Tops- v-neck stripped tee, crew neck white tee, floral printed Zara blouse, Hollister chambray shirt, cropped Zara sparkly pullover, Blush pullover, black and white striped 3 quarter sleeve tee
Bottoms- Zara light wash relaxed denim, Joe's Jeans dark skinnies, Mother Denim mustard skinnies, Grey pencil skirt w/ lace trim, Free People tan vegan leather mini
Body Con Dresses - black mini, purple sweater midi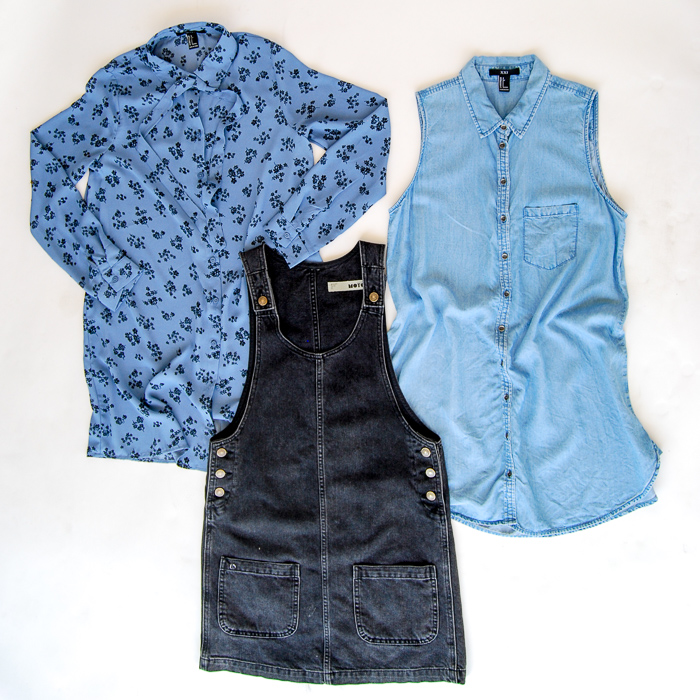 Dresses cont. - Blue printed button up dresss, chambray button up dress, Topshop black denim jumper
Jackets - Roxy black vegan leather jacket, Free People denim jacket